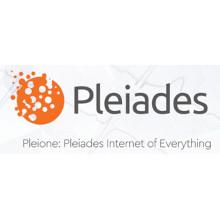 Περιγραφή έργου:
The innovative project, entitled "Pleione: Pleiades Internet of Everything" and abbreviated "Pleione IoE" aims to develop a smart city platform that allows sensors, smart devices and multiple other city data sources and subsystems to be connected through a common infrastructure where data is aggregated, normalized and analyzed.
Co‐financed by the European Regional Development Fund of the European Union and Greek national funds through the Operational Program Competitiveness, Entrepreneurship and Innovation, under the call 'CLUSTERS OF INNOVATION /COIs' (project code: ΓΓ2CL-0364874)
More specifically, the platform implements a unified management framework with combined city data models as well as standardized application programming interfaces (APIs), ensuring easy data extraction and integration, while incorporating the necessary city service semantics and enabling vertical solution providers to develop new "intelligent" horizontal or vertical urban service applications for cities.
Following this architecture, an information management layer is implemented that collects data from multiple sources (Legacy systems, Internet of Things (IoT), web applications, open data, data providers), to provide a complete representation of the city's state, while breaking down vertical silos of data and applications. The horizontal platform will act as a standalone tool for creating, developing and managing smart cities. It will be a plug-and-play solution for organizations such as municipalities, regions and government agencies looking to develop smart cities.
This is a novel intervention, as demonstrated by the following features:
It will create a horizontal projection of the city in real time.
It will enable decision making based on "smart data".
A new "intelligent" service will be created in the short term.
By allowing private actors and citizens to use city data, they will be able to strengthen local communities and the economy.
The platform will support the release of "smart" data to private actors and citizens.
The platform will be built with "open source" technologies to help our country adopt an "open" smart cities strategy, which will serve as a catalyst to foster collaboration and innovation.
DOTSOFT is involved in the development of a Remote Health Care Management system, for the effective prediction and interventional treatment of chronic disease cases.