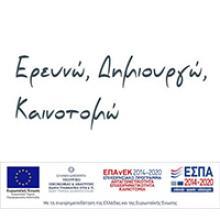 Περιγραφή έργου:
Personal Protective Equipment (PPE), also known as Personal Protective Equipment, refers to protective clothing, safety helmets or hats, safety glasses, safety shoes or other work clothes or equipment designed to protect the body of the person he is wearing an injury, infection or other risk to his safety and health. Statistics on occupational accidents indicate the importance of protection and prevention where the Personal Protective Equipment plays an important role.
'Protective clothing' refers to traditional types of working clothes such as, for example, goggles, safety shoes, waistcoats or high visibility reflective vests, while 'protective equipment' refers to items such as lining, masks, facial masks and disposable filter masks, earplugs and more. In the European Union, personal protective equipment is governed by the Personal Protective Equipment Directive (PPE) 89/686 / EEC and there is additional information on PPE regarding the legal obligations that ensure that PPE in the European Union provides the highest level protection against risks. The CE conformity marking attached to the PPE provides proof of this protection. The proposal concerns the development of an innovative system for monitoring the use of safety equipment that every worker has to wear, depending on the nature of his profession.
The aim is to monitor the equipment in a computerized manner in order to enhance the sense of security, the prevention of accidents at work and the improvement of the working conditions in various sectors of the Greek economy. The proposed system is based on proximity technologies using NFC and / or wearable devices and / or beacons and / or RFID for indoor or outdoor areas with emphasis on clothes, footwear, helmets, gloves and glasses, etc. As a means of transmission and detection (mobile phones, watches, NFC readers, etc.), as well as RFID readers for cases where there is clearly a certain entry and exit of each employee. The final system of the Wear4Safe project is targeted at all employees in the private and public sectors in occupations where the use of special equipment ensures the employee, the employer and the Social Security Organizations by reducing the cost of compensation. The project has a great social positive impact, it is innovative as there are no corresponding integrated applications today and its results will contribute to a safe work environment and to increase the competitiveness of the companies that will implement it.